ECGC Recruitment – 2022
The online examination for selection of personnel for the post of Probationary Officer in cadre of Executive Officers in ECGC Ltd. in the pay scale of 53600 2645(14)-90630- 2865(4)-102090 is scheduled in May, 2022.The officers are also eligible for the allowances and benefits like Dearness Allowance, House Rent Allowance / House Lease Reimbursement, Transport Allowance, Medical Allowance, Newspaper Allowance, Meal coupons, Reimbursement of Mobile Bills, Mobile Handset & Briefcase Allowance, Furniture Allowance, Household help Allowance, etc. The current CTC (Cost to Company) of Executive Officer (Probationary officer) posted in Mumbai is approximately Rs.16 lakh per annum.
Any eligible candidate who aspires to join in ECGC Ltd. as a Probationary Officer is required to register for the Recruitment Process. The Recruitment Process consists of Online Examination followed by the interview of the candidates shortlisted on the basis of their performance in the Online Examination. The online examination will be conducted at 22 centers i.e., Mumbai, Ahmedabad, Pune, Indore, Nagpur, Kolkata, Varanasi, Bhubaneshwar, Raipur, Guwahati, Chennai, Coimbatore, Bangalore, Kochi, Hyderabad, Visakhapatnam, Delhi, Chandigarh, Kanpur, Patna, Ranchi and Jaipur. Candidates who will be shortlisted in the online examination will be called to Mumbai and /or other centers for an interview to be conducted by the in-house panel of the Company. The recruitment will be strictly in line with the spirit of Government's guidelines on Reservation Policy.
Time Schedule For Probationary Officers in ECGC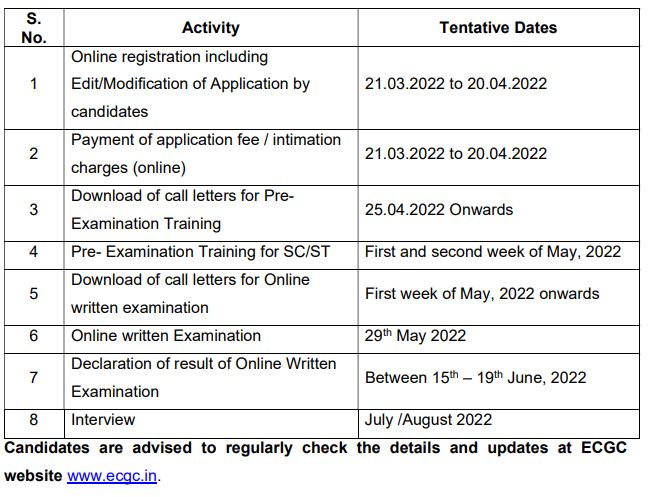 Number of Vacancies in ECGC 2022
Educational Qualification
A Degree of Graduation in any discipline from a University recognized by the Government of India or any equivalent qualification recognized as such by the Central Government. The candidate must possess valid Mark-sheet / Degree Certificate establishing that he/ she is a graduate and indicate the percentage of marks obtained in Graduation while registering online.
Recruitment Process or Selection in ECGC
Online Examination
| | | | | |
| --- | --- | --- | --- | --- |
| Sr.No. | No. of Tests | No. of Questions | Maximum Marks | Duration |
| 1 | Reasoning Ability | 50 | 50 | 40 Minutes |
| 2 | English Language | 40 | 40 | 30 Minutes |
| 3 | Computer Knowledge | 20 | 20 | 10 Minutes |
| 4 | General Awareness | 40 | 40 | 20 Minutes |
| 5 | Quantitative Aptitude | 50 | 50 | 40 Minutes |
| | Total | 200 | 200 | 140 Minutes |
Descriptive Paper (Test of English Language)
Sr. No
Type of Activity
No. of Questions
Marks
Time allotted
1
Essay Writing
One out of two given
options
20
40 minutes
2
Precis Writing
One out of two given
options
20
40 minutes
INTERVIEW Process
Candidates who have been shortlisted in the Online Written Examination will subsequently be called for an interview to be conducted by the Company at Mumbai and/or other centres. The Centre, address of the venue, time & date of interview will be informed to shortlisted candidates in the call letter. Candidates are required to download their interview call letters from website of the Company, i.e., www.ecgc.in. Please note that any request regarding change in date, centremetc. of interview will not be entertained. However, the Company reserves the right to change the date/venue/time/centre etc. of interview in unforeseen circumstances.
The total marks allotted for interview are 60. The minimum qualifying marks in interview will not be less than 40% (35% for SC/ST/OBC/ PWBD candidates). The weightage (ratio) of Online Examination and interview will be 80:20 respectively. The combined final score of the candidates shall be arrived at on the basis of scores obtained by the candidates in the Online Examination and Interview. Interview score of the candidates failing to secure minimum qualifying marks or otherwise barred from the interview or further process shall not be disclosed. A candidate should qualify both in the Online Examination and interview and be sufficiently high in the merit to be shortlisted for further selection process, details of which will be made available subsequently on the Company's website.
While appearing for the interview, the candidate should produce valid prescribed documents given below. In the absence of documents candidature of the candidates shall be cancelled. Company takes no responsibility to receive/collect any certificate/remittance/document sent separately.
Selection
On completion of the interview process, based on the business needs of the Company, candidates shortlisted will be issued joining letter based on merit keeping in view the spirit of Government Guidelines on reservation policy, various guidelines issued by Government of India/Others from time to time, administrative exigency, etc. Vacancies given in this advertisement are indicative as on the date of advertisement. However, the merit list of this Selection Process will be valid till 31/03/2023 and any vacancies arising for the period up to 31/03/2022 may be filled by issuing the offer letters to the candidates based on it. The merit list will expire
automatically on 31/03/2023. No change in the data already registered by the candidate in the online application form is possible.
Recruitment of Probationary Officers FY 2022-23
For apply Now यहां क्लिक करें
Click here for Link for online registration
Click here for Detailed Advertisement.
I hope you like the Article of the Apply Online Recruitment of Probationary Officers in ECGC – 2022. if you like then share to others.
Happy Reading Stay Connected